Swallow court JUNCTION 27 M5 –
pigsty to people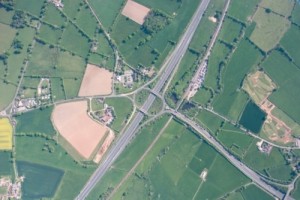 Taking deteriorating Victorian buildings from piggeries to business space takes some doing when the Planning policies are against the idea. Market forces dictated that the project could be thoroughly viable given the correct impetus and planning: three phases of development ,18 units are constructed and occupied. In ten years the location has moved to a serious business node and further projects envisaged as the new coalition government agenda assists places where business can be proved to be viable.
Our latest permission involves a innovative design for an office building of 12500 Sq Ft which meets the green agenda head-on and will appeal to emerging business interested in being carbon efficient- another example of moving outside the norm in a new location . PERMISSION GRANTED in FEBRUARY 2012 . Occupiers interest secured.
Funding partners required and Harcourt Kerr are assisting jointly with national agents.
Rylands Nurseries Wellington –
plant pots to house plots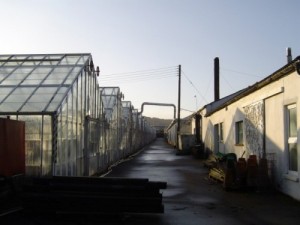 Here we have glasshouses and pack rooms on about 10 acres of land. Adjacent to both housing and industrial units we assisted the owners in arriving a solution that delivered an answer to redevelop redundant buildings that are unable to compete in the modern world.
Achieved – housing (7acres) and employment site(3acres) SOLD in excess of £4m which was 25% above expectations and 75% higher than the existing use value. In this case we worked with a main agent to achieve the best marketing result .
We are happy to attend site with no obligation to advise on similar situations
Tiverton Trade Centre –
redundant looms to viable revelation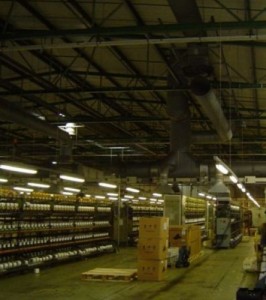 Formerly the Wykes Yarn factory on a main industrial estate, a 20-year old purpose built factory required innovative thinking to bring it back to use. Deep space, poor yards and in a flood zone was just the start.
Empty and full of redundant plant the building needed repositioning in the market. We advised on the split into four viable units with an early occupier identified before we started work.
Planning was required and an acute knowledge of the Local markets. In less than a year the value of the asset was doubled.
Let and Sold within 12 months
No 1 Portbury , Bristol –
Large shed in port needs attention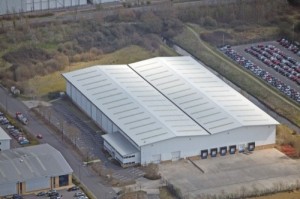 A well-specified building less than 15 years old is empty for the 2006 to 2009. It is less than a mile from the M5 Motorway. No takers in spite of widespread marketing by national agents. Reason: The building was not ready to meet modern occupiers.
Recognising the markets in the less buoyant economic times require something different we put together a plan to reshape and make available to those new requirements.
Two 40,000sqft units with yards and offices were created to make the building market-facing.
Bought – occupied and sold as an investment in just over one year.
Joints Agents BNP Parisbas
Telegraph Hill – A380 Trunk Road –
roadside enterprise in AONB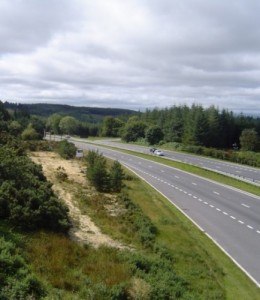 Roadside site with potential for a number of uses. Recently obtained hotel and restaurant planning consent has maintained the profile of this site. The site is in an area of outstanding natural beauty but is alongside a dual carriageway and opposite a petrol station.
We have advised on appropriate uses within the national and local policy.
Hotel occupiers or leisure enterprises may wish to partner the land owner here
Broadmoor Farm Saltash –
gateway to cornwall identified and brought to life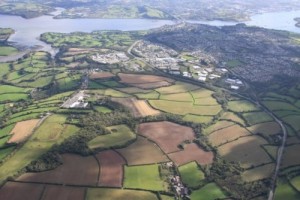 One of the most exciting new projects in Cornwall.
Hot on the heels of a new large allocation in Truro, focus is now on the eastern end of the county. This site at the gateway to Cornwall on crossing the Tamar provides potential over 300 acres of land for development on the edge of Plymouth – the largest urban population in the southwest.
THIS LAND IS ON THE MARKET for partners to take forward the planning process. Already
working with planning authority and stakeholders we have emerging plans for the first 30 acres with access point secured. Now secured to Commercial Estates Group Please Contact Us if you have funds for similar sites across the south west.
2013 to 2014 – under promotion through planning process.
Scots Bampton –
stone crushing works to stucco fronts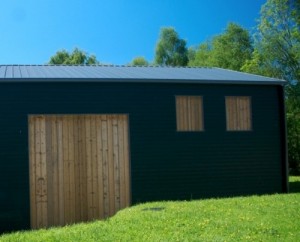 Taking a hole in the ground locally know as 'The stone-crushing works' was only made viable or possible in planning terms due to a quirk of a time gone-by. A well-know local family had owned this site since the quarrying ceased and it was time for a disposal so could the value be enhanced.
Stone when crushed was transported out by narrow gauge rail and that required a lovely stone bridge over the ravine to be built as this was the vital gap between the site and the town and now the pedestrian link to all the services of the town. without such connectivity the devlopment was doomed but we had to point this out, make the link possible by additional walkway and obtain a viable plnning consent.
Forty plus houses and a 3 acre employment zone was created only when the rights of way were secured and the planning arguments put to revitalise an eyesore.
Two years of planning and marketing and a further two years of construction has seen all houses built and sold-
Only 0.45 hectares industrial land remaining
– contact us for an apparaisal of difficult sites.
Mid Devon Business Park –
allocated land to maximise uses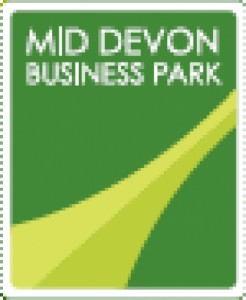 Some of the only services commercial land on the M5 corridor

A project to bring forward already allocated land to maximise the potential.
Design and build – ready to speak to occupiers now

From half an acre to 5 acre plots capable of supporting up to 60,000sq ft. design and build and sales of land from about £300,000 per acre.
Plus: TWO ACTIVE PHASES OF NEW BUSINESS SPACE UNITS
ETHMAR COURT – offering TERRACED UNITS OF BETWEEN 1000SQ FT AND 3000 SQFT WITH MEZZANINES SUITABLE FOR OFFICES….For sale or To let on flexible terms.
HIGHMOUNT COURT– Four units offering 3450sqft per unit but could be joined together. For sale or To let on flexible terms.

TWO

REMAINING
Acting for London and Devonshire Trust, we were able to purchase from the Royal Agricultural Benevolent Fund so as to create a new business area that is thriving by attracting new business occupiers.
Look us up at www.mdbp.co.uk
Strategic industrial/rail/ power generation site – M5 corridor –
from Brunel to Bronze
Isambad Brunel may not always have been right but he certainly chose an excellent southwest location to load up sheep and cattle for transport to the urban areas of the UK. Tiverton Junction was created 125 years ago and is still going strong.
Nowwith part of the site a major food processing factory, the home of prime Bronze chicken from Devon, and being on the M5 corridor at Willand right beside Brunels railway and the North Devon Link road this site has spare land ready for regeneration.
One of the only sites in the south-west with the future prospect of rail connection the property has some real prospects for industry or distribution. Close to national electricity grid connection.
30 acres. Freehold. Interest invited

See our property listings for details.
BISHOPs LYDEARD SOMERSET –
major Leisure attraction no longer sidelined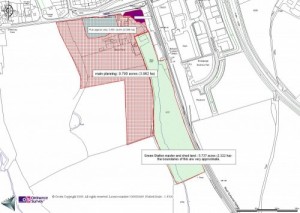 An unusual site close to the West Somerset Railway on the edge of the village. WSR is the biggest visitor attraction in Somerset and they required expansion land.
In exchange for land released to the leisure uses consent has been obtained for 42 houses and commercial development so providing vital land for the railway and enough cash for the landowner to release the land.
Taylor Wimpey bought the site in late 2011 and houses can be seen in what is now known as Brunswick Green.
Harcourt worked with planners for to maximise the value to the farmer whilst delivering strong community benefits and a new roundabout on an accident blackspot on the main road close by. This took over three years and required tenacity and a strong knowledge of what was possible to achieve between landowner, community and polititians on development outside policy.
Sold to Taylor Wimpey
Barnstaple –
Land zoned for employment considered unviable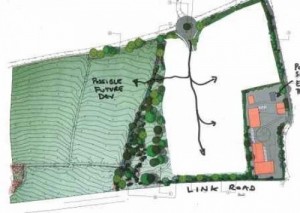 Twelve Acres – adjoining Roundswell – the main new employment area close to the A361 Trunk Road has been avaiable for development for over 15 years but with no prosepects of a viable scheme being brought forward for commercial purposes. Why: because the cost of contruction and entry to the site exceeds value by a large margin.
Answer: Make the scheme viable by bringing in more valuable uses. Hrcourt Kerr are working on a mixed use scheme to assist a long established business who want to be located here to achieve their aim.
Working with the business and the planners and polititians a scheme to include HOUSING and ROAD LINKS is being formulated for submission to the Local Authority
Option agreed to redrow homes 2013 – planning application current
M5 MOTORWAY – JUNCTION 27 –
Take away land created to take away.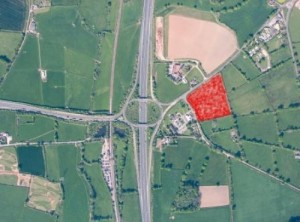 Gateway to the West Country
Marvellous opportunity for Roadside operators to make their mark at a key site on Junction27 – adjacent to existing facilities .
With 3.9 ha marked red on photo here having recent planning consent for 1750sqm retail and fast food space with carparking and other commercial opportunities this site has great potential
This site had much less prospects without the Consent which was achieved by difficult but logical steps through thte planning process over a three year period
Land available –See our property listings for details.
Tiverton Hospital –
major surgery brings affordable houses, shops and live-work to former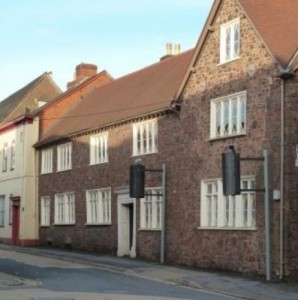 57 BAMPTON STREET EX16 6AL
As part of a major redevelopment of the Tiverton Hospital which will include shops offices appartements, houses and live-work units this listed character building is available for sale FREEHOLD.
As the first stage of the development comes out of the ground this buidling starts to come into its own fitting into the new landscape following the removal of ugly hospital premises.
Gross 6000sqft of space ripe for improvement the building could suit a varety of interesting uses from private clinic, educational to office based use perhaps with elements of residential living quarters.
First phase or affordable housing : sold to Magna

Nurses quarters – sold

See our property listings for details.
Kennards House A30 Cornwall –
Life into holiday route site overlooking golf course
One of the only strategic roadside sites between Exeter and Lands End.
We advised the owners on this 6.5 acres with full planning consent for hotel, restaurant , shop petrol station with shop and 192 car and 18 coach/lorry/ caravan parking and this includes full retail consent on 965sq m.
Low infrastrucutrue costs as the main road arrangements are fulfilled with roundabout installed giving direct access to A30 – the only arterial route into the main holiday areas.
We have assisted in achieving a consent on a difficult site for uses appropriate to its location and setting in tems of local authority planning policy.
See our property listings for details.
Wellington Junction 26 M5 – PhaseII Foxmoor Business Park-
access is the answer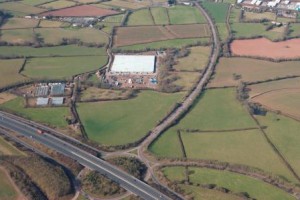 Strategically superb in terms of the south west and the road network. Offering some of the most viable land on the M5 corridor right on an uncluttered junction a 25 acre business location with over 20 occupiers operating.
In this case access was a vital ingredient to making the site both viable and market facing. So we have advised on new access achieved with relativley low cost yet making a commercially better scheme that neede a fillip in markets that are highly competitive.